Publications
---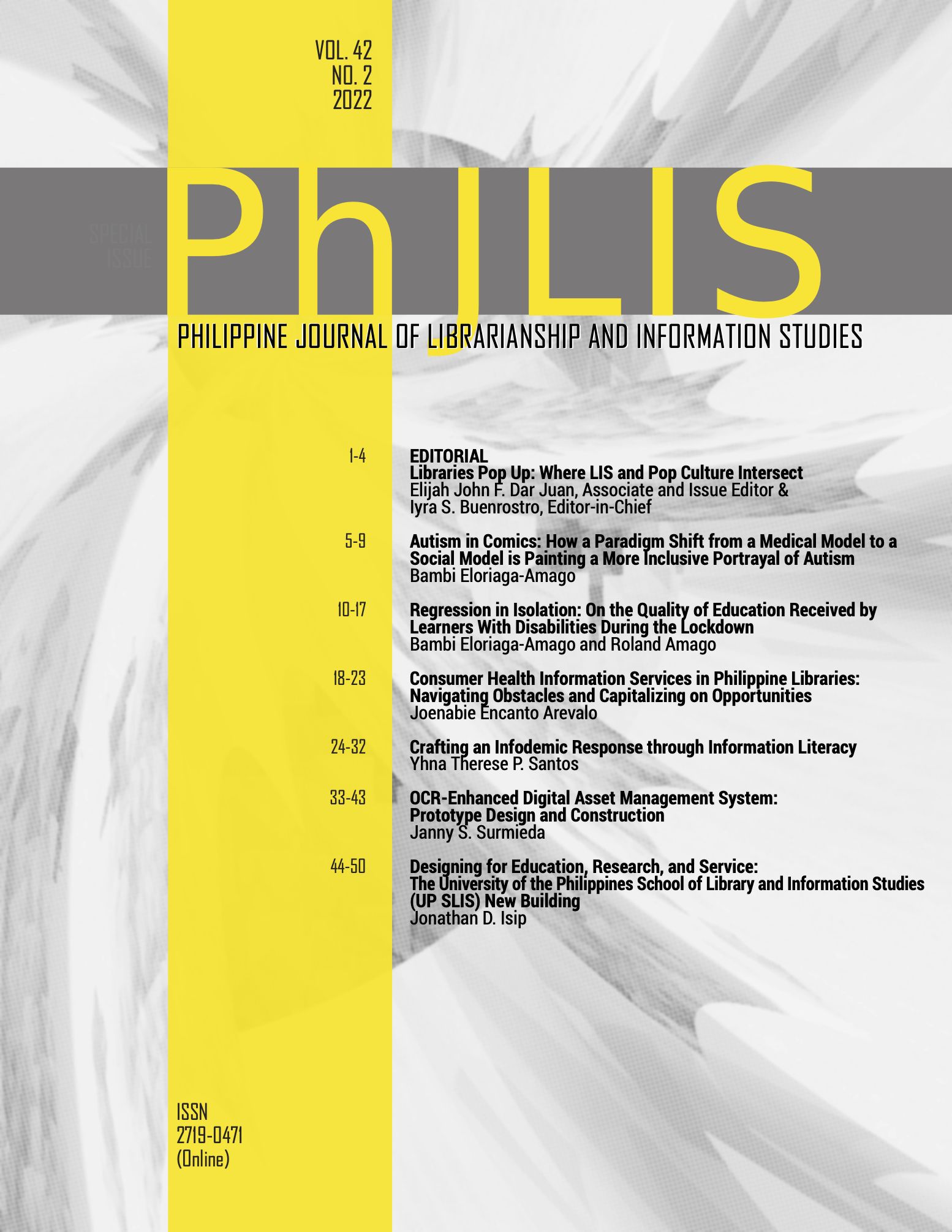 Philippine Journal of Librarianship and Information Studies [ISSN: 2719-0471 (Online)]
The UP School of Library and Information Studies (UP SLIS) is pleased to announce the release of Vol. 42, Issue 2 of the Philippine Journal of Librarianship and Information Studies (PhJLIS, formerly Journal of Philippine Librarianship or JPL). This issue contains an illustrated piece on information and education for learners with disabilities and special needs during the lockdown; articles on autism in comics, consumer health information services in Philippine libraries, infodemic response through information literacy, prototype and design of an OCR-enhanced digital asset management system, and LIS school building design and construction; and an editorial on LIS and pop culture. All these articles can be downloaded for free.
The PhJLIS Editorial Board is led by Iyra Buenrostro-Cabbab (Editor-in-Chief), Elijah Dar Juan (Assoc. Editor & Issue Editor), and Johann Frederick Cabbab (Assoc. Editor & Lay-out Editor).
The Editorial Board is accepting submissions all year round. Please visit https://phjlis.org for more information on the manuscript categories, submission guidelines, and editorial policy. For inquiries, please contact editor@phjlis.org.
Limited Time Offer:
SLIS Coffeetable Book
After almost a decade of research, gathering of photos from the archives and our alumni, looking and inviting sponsors for this book project, and numerous layout revisions, the first SLIS Coffee Table Book in more than 50 years of the School's existence is finally out!
Order now at bit.ly/SLISCTB
Limited copies available. Orders will be processed on a first come-first served basis until stock runs out.