SLIS Graduate Programs for AY 2022-23
The UP SLIS is pleased to announce that the filing of application for the MLIS, MSLIS, and MARM for A.Y. 2022-23 is currently open from April 18 until June 20, 2022.
Apply Now
Publications
---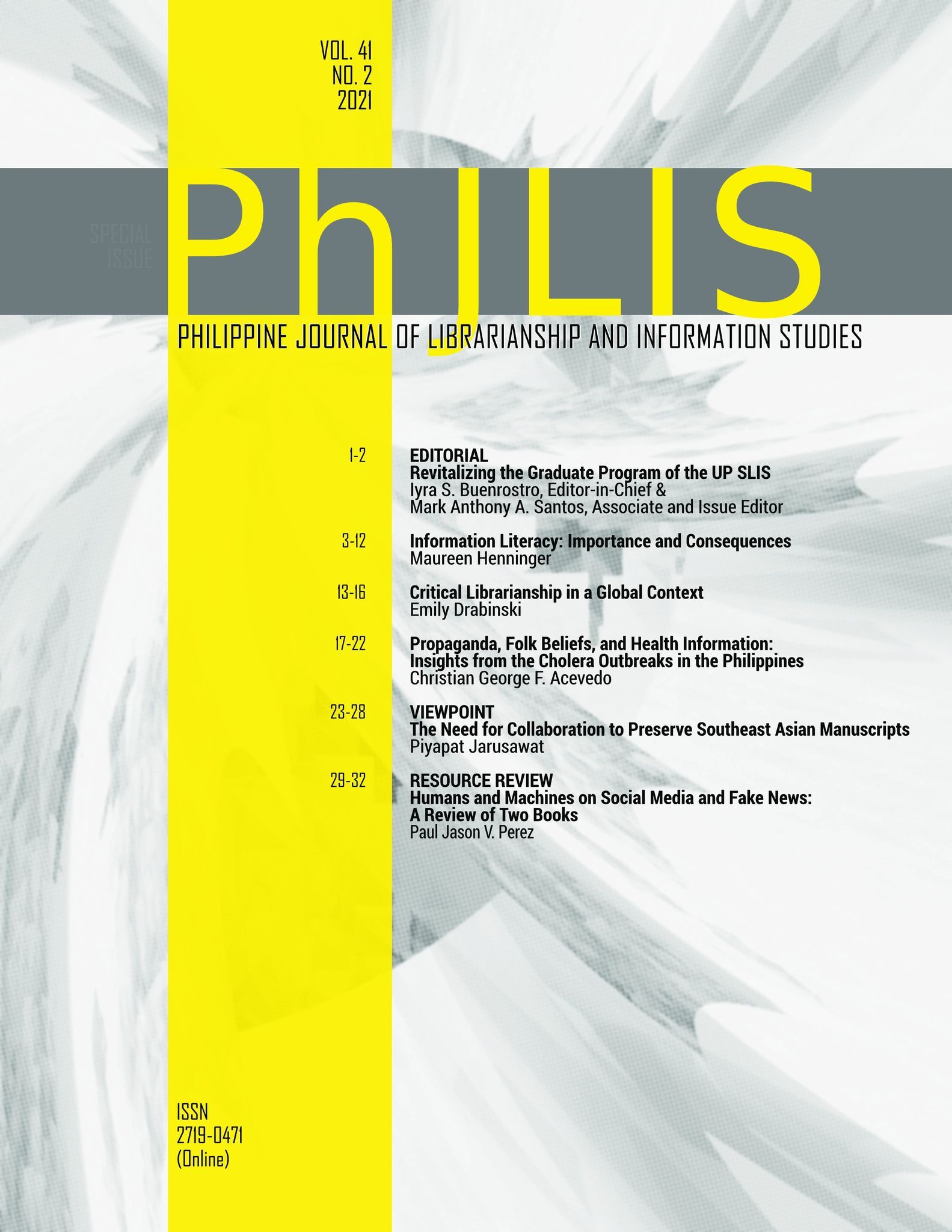 Philippine Journal of Librarianship and Information Studies [ISSN: 2719-0471 (Online)]
As we begin the year 2022 with hope and continuous commitment to whole-heartedly serve the entire library and information community in the country and in the region through pedagogy, extension services, and research, the UP School of Library and Information Studies (UP SLIS) is pleased to announce the release of Vol. 41, Issue 2 of the Philippine Journal of Librarianship and Information Studies (PhJLIS, formerly Journal of Philippine Librarianship or JPL). This issue contains articles on information literacy, critical librarianship, and health (mis)information; a viewpoint article on preservation of Southeast Asian manuscripts; a review of works on social media and fake news; and an editorial piece on the progress and recent developments in the graduate education offered by the UP SLIS. All these articles can be downloaded for free
The PhJLIS Editorial Board is led by Prof. Iyra Buenrostro-Cabbab (Editor-in-Chief), and Prof. Mark Anthony Santos (Assoc. Editor & Issue Editor) and Prof. Johann Frederick Cabbab (Assoc. Editor & Lay-out Editor). The Editorial Board is accepting submissions all year round. Please visit https://phjlis.org for more information on the manuscript categories, submission guidelines, and editorial policy. For inquiries, please contact editor@phjlis.org.
Limited Time Offer:
SLIS Coffeetable Book
After almost a decade of research, gathering of photos from the archives and our alumni, looking and inviting sponsors for this book project, and numerous layout revisions, the first SLIS Coffee Table Book in more than 50 years of the School's existence is finally out!
Order now at bit.ly/SLISCTB
Limited copies available. Orders will be processed on a first come-first served basis until stock runs out.