BLIS Shiftee and Transferee Admissions 2023
Applications for shiftees within UP Diliman (S2) and transferees from Other UP Constituent Universities (CUs) (T1) for the BLIS Program, 1st Semester AY 2023-2024 will be accepted from 01-30 June 2023.
Interested applicants from UP Diliman and other UP CUs should refer to the BLIS S2/T1 Application Packet at https://bit.ly/BLIStransfer2023 for the forms and instructions.
The application for transferees from other universities (T2) is also open from 01-30 June 2023. Interested parties should apply directly to the UP Diliman Office of the University Registrar following the instructions detailed in https://our.upd.edu.ph/files/announce/T2Process.pdf.
The OUR Primer for AY 2023-2024 detailing the requirements for all methods of entering the BLIS programme is available at https://our.upd.edu.ph/files/PRIMER%202023-2024.pdf
Inquiries about the BLIS programme or the application process may be sent to
Asst. Prof. Mark Anthony A. Santos
College Secretary, UP SLIS
via email to colsec.slis.updiliman@up.edu.ph or phone +632 8981 8500 ext 2870.
Potential T1 applicants for AY 2024-2025 and individuals wishing to register as Special Student Without Credit may also refer to the OUR registration requirements for cross-registrants and non-regular students available at https://our.upd.edu.ph/files/announce/regprocnr.pdf.
All personal information collected in the application process are covered by the UP Diliman Privacy Policy. Applicants are advised to transact directly with the university offices specified in their respective application processes (such as the UPD Cash Office and the Office of Counseling and Guidance). The OCG Aptitude Examination should be organised by the applicant through appointment or walk-in at the OCG.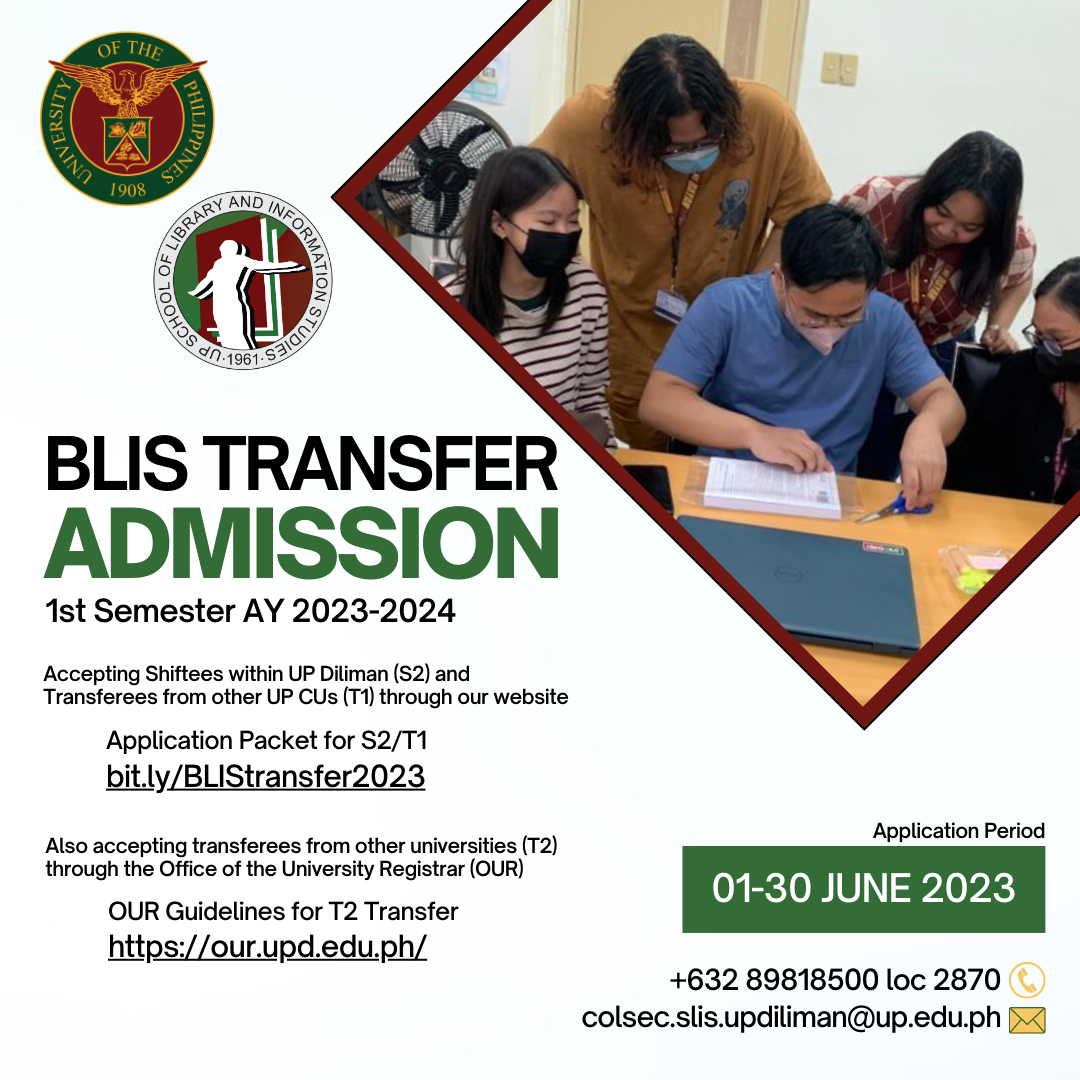 Published: 2023-05-20 07:41:33