41st Gabriel A. Bernardo Memorial Lecture (2021)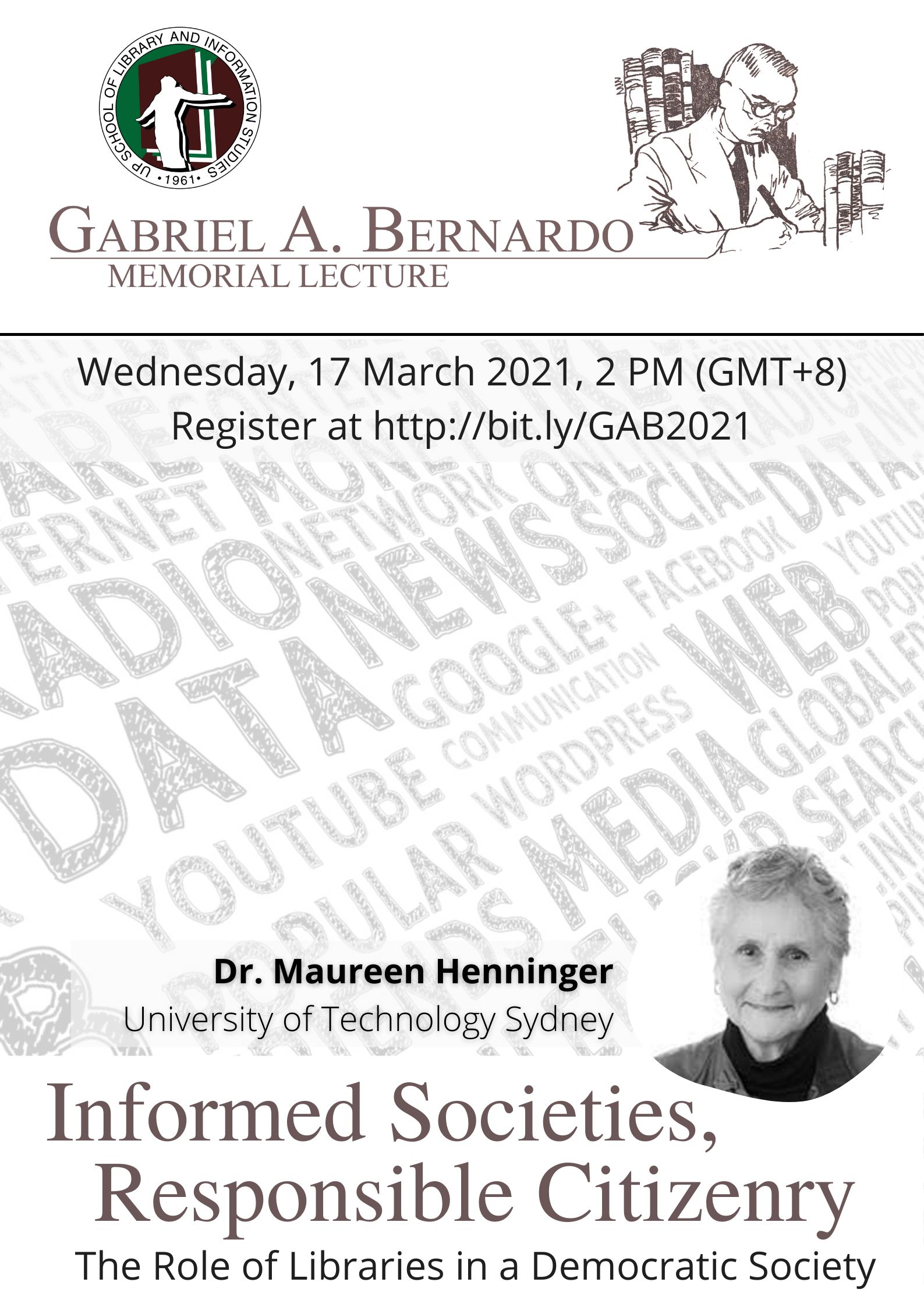 The UP School of Library and Information Studies (UP SLIS) hosts the annual Gabriel A. Bernardo (GAB) Memorial Lecture Series in celebration of the legacy of Gabriel A. Bernardo, doyen of Philippine librarianship. The GAB Memorial Lecture series is the longest-running lecture series related to LIS and has been the venue for the discussion of relevant library and information science issues and trends.
This year's lecture is to be delivered by Dr. Maureen Henninger. She was in the forefront of research and practice in the digital environment, and specifically with the advent of the Internet, published and consulted widely on digital literacy for industry, government and non-government organizations, both in Australia and internationally, and has been an invited guest speaker at many conferences within the information, medical, biotechnology and education professions.
As an information professional she has worked with government and international organisations to deliver digital literacy and projects for the preservation of information artefacts in many Asian and Pacific countries. In her academic career, her research, curriculum and teaching has been in the field of digital literacy, and more recently, data literacy, particularly in the journalistic field, and is currently a visiting fellow, specialising in digital information management at the University of Technology Sydney.
Her longstanding interest in political science and democratic processes led to her current research and publishing that has focussed broadly on the information and digital literacy requirements for accessing government information and datasets. Her current concern is with governmental mechanisms and practices that enable and constrain democratic processes and active citizenship.
While there are a vast amount of definitions, theories, research, literature, prognostications and aspects of information literacy, this lecture will be limited to some of her passionate convictions concerning the importance of many literacies, particularly civic and digital literacy, so that all citizens can make informed judgements and decisions. At the forefront of this endeavour are information professionals, who themselves must have high skills in these literacies in order to pass them on to students, patrons of their libraries and colleagues across the breadth of the citizenry.
This event is open to all. You are invited to register at bit.ly/GAB2021 to be able to receive email updates and submit questions a couple of days before the event, but the lecture itself will be streamed live through our YouTube channel and Facebook page.
Published: 2022-03-10 07:06:45